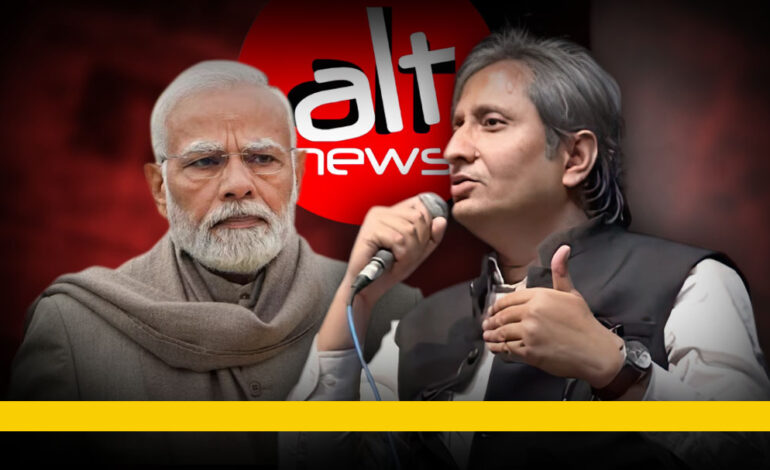 Renowned journalist Ravish Kumar Talks on India's Media and the imminent crisis as a constitutional nation.
---
A seminar was held on October 28 at the Constitution Club in Delhi on the topic, 'Imminent crisis and challenges for India as a constitutional nation'. This seminar was attended by poet and literary-cultural critic Ashok Bajpai, academic Aakriti Bhatia, Advocate Kabir Srivastava, Film Director Nitin Vaidya, Professor Rajkumar Jain and Journalist Ravish. The AIDEM is reproducing an edited excerpt of Ravish Kumar's speech at the seminar.
---
Many thanks to Rama Shankar ji, Rajkumar ji, Ashok ji, Kabir ji, Aakriti ji and Nitin ji. The organiser knows the reason why I came late and why I would have to leave earlier. But it is not because of disrespect. It is not my nature either. I have come late for some reason, yet I apologise to you all. I am not in the habit of speaking without preparation. I was worried about how I would be able to speak, but now that I have come, I will have to speak.
I have been writing and speaking on this media for the past ten years and during this time, examining it from inside and outside. I am also repeatedly looking at my own words with doubt and suspicion and asking how much reality is there in what I say. How close is it to reality? The magnitude of media is now left only in its name. Its work has become formless. So, now, I have to speak about what is not there.
If there were some real journalists, who do good work and make genuine mistakes, we could have analysed that. Is it possible that even if you do not play cricket, you will still be called a cricketer? This cannot happen. But you can be called a media anchor without doing journalism. Whenever I talk about media, I always talk about the mainstream to which the government and the market give advertisements worth lakhs of crores of rupees. This profession is seen as an essential agency of democracy. Now this has essentially become a murderer of democracy. The challenge today is that if democracy is to be saved, constitutional values are to be saved, or the remaining democracy is to be kept alive, then democracy will have to be saved from this media. During the ten years after 2014, about which the Prime Minister said that it is not a date, it is an era of change.
The thing that I do not see in my profession now are dreams. When I meet journalists working in the mainstream, there is no dream about their profession. And when there is no dream then obviously there will be no passion either. Any value of journalism cannot exist without constitutional values and democratic values. The competition or dream within them to be a journalist, to be a good journalist, all that seems to be over now. Everyone has made different kinds of excuses. Whatever outspokenness one had, that used to manifest from time to time either in an untimely manner or habitually, has turned into bleating. And I am not talking about any small industry. 
It is a very big industry. Thousands of people work in it. Thousands of people study journalism to get work. If we add all these numbers together, it becomes a decent number. Still, there seems to be no dream among them regarding journalism. Like any batsman or bowler would think that our batting or bowling should be like this, the speed of the ball should be like this, its swing should be like this. This kind of dream is not seen in people associated with this profession. And no fire in their thinking. Maybe there is something wrong with my vision. Many a time I think why these students are going to university to study journalism, when there is no journalism left? When the profession itself has ended, then what will they do after studying about that profession in the syllabus? 
Young people are worried. In our times, we still got opportunities to do something or the other. And what would these journalists talk about when they would go home or come from home to office? What kind of news about people and public would they be bringing and with which the reporter would be running to the editor and the editor would be running to take it to the reader? We all had experienced this excitement in the past. 
When we came into this profession, we used to avidly discuss with journalists of other channels about our stories. One would say that  you missed out a particular angle in your story or that our story was factually more accurate or that you have talked to a wrong source. Someone would also say that your shot was good as your cameraman is good but the cameraman of our channel is not good. So these types of conversations used to happen. And when we talked to the cameraman, he would tell us that the sound quality of the visuals was not good. So there was a pleasure of something happening. This was a practice which we were doing continuously. Now this pleasure has ended and it has been destroyed by the media, the journalists and its owners, all put together. 
The media, which does not have dreams, or competition cannot be regarded as business, whatever else you may call it. Today, even if you want to differentiate between Godi Media's channels on the basis of their product, you will not be able to do so. The competition among them as to whether one media is good or better than another has ended. But their business is going on. There can be long discussions on how market advertising and corporate money is being invested in this industry that spreads hatred and kills democracy. 
Earlier, the media used to make excuses when questions were raised about content that was very bad. One common excuse was that the audience is like this, then we do this for TRP, to live etc. But now Mukesh Ambani does not have such compulsion, he has a lot of money. How much money comes from TRP? 20-25 crores. If money was the reason, then Mukesh Ambani's channel should have been the best. But their anchor sits on the same channel and says that there should be a permanent solution. So all these excuses have also ended now. 
So, what we are seeing now is a model, which has no respect for democracy and democratic debate. A media culture, which cannot assure that our democracy is safe. This is the same media which started talking about citizen journalism before 2014. It was empowering the citizens by asking questions on their behalf. It would drift from time to time but would also come back because something happened among the public that instilled or triggered a sense that a journalist had a responsibility towards the public. There were many journalists who took this responsibility whenever they found activity that required responsible reactions. It was in continuation of this that channels started covering movements from within them and many channels started building studios amidst these movements and did live recording. That is, by standing among the public, a chair was placed there and a new kind of space was being created. The reason why a journalist often went to the public was because he derived the power of his existence from such an exercise.
Since 2014, the media has changed its source of power. It has eliminated the source of taking power from the public. It has started taking power from the government and has stopped asking questions to the government, it has started asking questions to the public. Your writers are being called traitors and anti-nationals by various names. In a way, they became like muscle men who were used during election time. These are the new Bahubalis (musclemen) of information. They are those wield lathis (clubs). Their job is not to give you information but to prevent the information from reaching anywhere else. They threaten the public.
 When Olympic medal winning women were protesting, they used to say that many people come to interview us but it is not visible anywhere. These interviews were not shown. And when the farmers went to protest, without knowing and without investigating, the media immediately called them terrorists. This had never happened before. Very many devious terminologies were developed to brand those who were once called Anna Data ( providers of food ).. They were called terrorists in one fell swoop. The media made it clear that now we do not want our power from the farmers, from the public. So when the media becomes anti- people and anti – opposition, expecting him to somehow follow the Constitution is a waste of one's time. I do not expect that from them. To be anti-democratic, it was necessary for the media to exclude both the public and the opposition. It did this through its work. Therefore, 2014 is not just a date but an era of change.
After this, one more thing was needed ; to throw out real information or sideline it. That work was also done very easily. So when you flip through the newspapers, you will find a large number of investigative stories or news from within the government, but you will not be able to identify and remember the name of the person who brought out such news. Especially, in the Godi media. I am talking about them and I am talking about them only. So, even when a plethora of lies was being spread and used as a weapon, media did not fight those lies, but made friendship with it. But some people did battle these lies. Who were they? People from outside; Organisations like Alt News, Boom Live. In a sense, this battle was being outsourced. 
And why was it outsourced? Because the mainstream refused to do the work of refuting fake news. Why did it carry out this act of withdrawal? Because fake news was actually government news. It was political news. So if you refute that political fake news, you will come under the government's notice, which is the sole master of all the Godi media. So, Alt News and Boom Live took this responsibility. It has now become difficult to differentiate between the lies of the media and the government, whether they are of the government or spread by the media. But when you go to the time line of Mohammad Zubair (co-founder of AltNews), you will find amazing work. This young man does not just talk about fake news of India. He also talks about how fake news is being used in support of Israel's narratives. The way he exposes how fake news is used is amazing. So this dream should have been of the people inside the media, but it is not. The one who announces on Twitter every 30th that I need so much money. Only one lakh has come now, please send some more. How closely this young man follows the news of ANI agency every day. Many times it catches in such a way that ANI is forced to delete the story.
The owners of all the newspapers and the owners of all the channels know that the fake news, the propaganda of WhatsApp University, belongs to Saheb. Do not interfere in it, but, if possible, create some of your evening's debate from it. So today a media is needed to fight the lies of the media. You need to stand on your own. That is why I said as to how difficult it is to speak on the media which does not exist in India. The journalists of Godi media first killed the journalist within them. It was very important that they first killed their sensibilities and their professional skills, only then they could work. Now they have come a long way.
We have all been taught in journalism to remember, if nothing else, the five W's; Who, What, When, Where, Why. Now only one W is left, What, under the guise of which the Godi Media seeks to mark its lies to be true. It has made itself devoid of information. Democracy has been made devoid of the public and the opposition. Now the public and the opposition are no longer visible on this media screen. News now has only one face, that of Prime Minister Narendra Modi. Apart from this face, they have no other information. This is a new kind of information watch so that people do not realize that information is missing. In these ten years, the popularity of the Prime Minister kept increasing and decreasing in different states. But the Godi media remained consistently loyal to him. Because he has been absorbed in them. He is their editor; their news; their thoughts; their propaganda. In this media you can see the qualities of Modi, BJP, RSS, Bajrang Dal. But when the opposition comes, they call it feeble and ridicule it. It never gives space to the opposition's questions. It will never ask questions about Adani and Pulwama. And it shows them in such a way that they are not visible, their work is not visible. It rejects whatever support they are getting. Rahul Gandhi, Aditya Thakur, Tejaswi Yadav, all these are leaders of the new generation aged around fifty or below. It will present them as clowns. It will present them as corrupt. In a country where young leaders are talked about, these young leaders will not be shown there. Rather, seventy-year-old leaders will be presented as young leaders. Will publicize their working hours, but will not question them. So, a sort of freedom from the alternative. Godi media has taken the pledge of Modi. It worships him and also makes its audience worship him. 
An anchor was asking the other day as follows:  if the Prime Minister can work for hundred hours then why can't the youth work for seventy hours? There is unemployment in the country, there is no work, there are low salary jobs but the anchor was preaching as to why you do not work for seventy hours. As if everyone has got work, only the youth are not interested in work and have left it. They have stopped going to office, and are sitting at home on leave. In 2019, these youth were told that frying pakoras is also a job. Now they are being told to work for seventy hours while they do not know what to do. They want to become a soldier for life. But you have made our youth a four-year- Agniveer. Why does the anchor not say that the soldiers should get full employment? But instead of such relevant questions, what kind of questions is the media sending to the society? The answer is that it does not want to talk to the public, but has to merely scold the people.With great audacity, it made the public run away by threatening them. And it is surprising how the public, which is a viewer in the evening and a reader in the morning, is tolerating this. Do they have no reason not to watch Godi media? Is there no democratic alternative left?
PART TWO TO FOLLOW SOON | Watch the original video of Ravish Kumar's Hindi speech here.

---
To receive updates on detailed analysis and in-depth interviews from The AIDEM, join our WhatsApp group. Click Here.