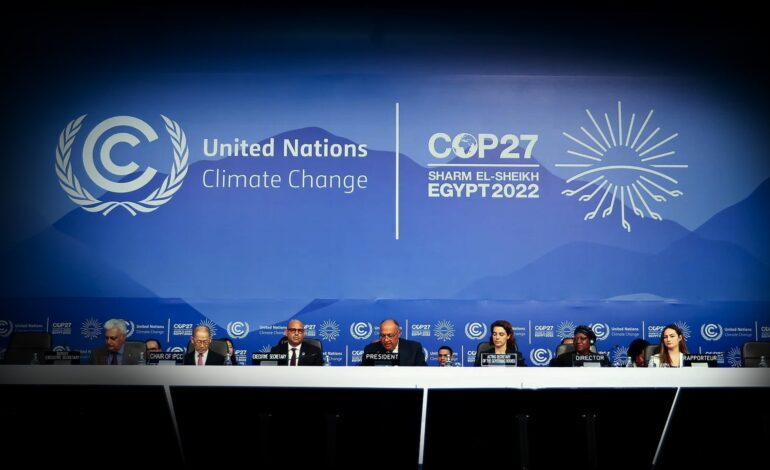 Great expectations
"It was the best of times, it was the worst of times, it was the age of wisdom, it was the age of foolishness, it was the epoch of belief, it was the epoch of incredulity, it was the season of Light, it was the season of Darkness, it was the spring of hope, it was the winter of despair, we had everything before us, we had nothing before us, we were all going direct to Heaven, we were all going direct the other way – in short, the period was so far like the present period, that some of its noisiest authorities insisted on its being received, for good or for evil, in the superlative degree of comparison only." – Charles Dickens, Tale of Two Cities
The seemingly unending negotiations in Egypt at COP 27 came to a conclusion at last. Now we have an agreement, called the Sharm-el-Sheikh Implementation Plan. The COP 27 was held during a tense geopolitical situation with the Russia-Ukraine war, where it was more challenging than usual to get more than 200 countries to come to a common ground. As with most other COPs in the past, this too was a mixed bag with some breakthroughs and disappointments.
Breakthroughs
Time and again, we have seen how the climate change impacts have been disproportionately wreaked on the poorer, vulnerable nations. Most of these developing countries have appealed for a compensatory fund from the richer countries unsuccessfully in the past. Most recently, at COP 26 in Glasgow, the US and the EU rejected the calls for such funds or mechanisms. It was a huge setback. The COP27 President, Aboulmagd, at the onset had emphasised that Egypt prioritise to navigate the disparate positions. 
There was intense resistance from the developed countries to even include the 'Loss and Damage' fund for vulnerable countries in the agenda. So, when it was agreed upon in the final hours it is indeed a testament to a normative shift. The united stance by the G-77, led by Pakistan, a country that faced extreme heat waves and a devastating flood in the same year, made it impossible for the richer countries to claim an ethical stance without acknowledging the reparations they owed.
The World Meteorological Organization released an Executive Action Plan of Early Warnings for All at COP 27, calling for a five-year investment of about 3.1 billion US Dollars. India supports this initiative, as adaptation encompasses better preparedness. The World Bank Group announced a Global Shield Financing Facility that aims to provide pre-arranged insurance and disaster protection funding. It is a step towards financing loss and damage to be sure. But as there is no clarity around how much of the fund will be Grants, some of the vulnerable countries are wary of it.
There was a renewal of pledges towards the Adaptation Fund, amounting to over 230 million USD. This coupled with the agreement to start a Loss and Damage fund promises to make for a more robust adaptation pathway, especially for the most vulnerable nations. Furthermore, with the closure of the second technical dialogue of the Global Stocktake, we will soon (by COP28) have a clearer understanding of how to increase the effectiveness of adaptation implementation. These dialogues aim to improve resilience capacities by 2030.
A transitional committee was established to help with recommendations on matters relating to the Loss and Damage fund. While this marks an important step towards global climate justice, detailed aspects that are critical to accessibility, measurement, and contributors of the fund are yet to be finalized in the next COP. India may not benefit from the loss and damage fund, even though it has made the demand. The language in the agreement is carefully worded by the EU in order to avoid any spiraling liabilities– and is likely to exclude major economies like India.
Disappointments
To limit global warming to 1.5C compared to pre-industrial levels, we need to reduce global emissions by 43% by 2030 (from 2019 values). However, developed countries have not done enough in terms of emission cuts or climate finance commitments. The final draft recognized that a global transformation to a low-carbon economy is expected to require an investment of at least $4-6 trillion per year. But it did not outline the new and binding targets for climate finance. For India, climate finance will be imperative to achieve its enhanced Nationally Determined Contributions (NDC) goals. These goals include producing 50% of its electricity from non-fossil sources by 2030, reducing carbon emissions by one billion tonnes until 2030, adapting to the unavoidable impacts of climate change, and transitioning to net zero emissions by 2070.
Even though India proposed phasing down all fossil fuels, it did not make it to the final agreement. It is exceedingly clear that the developed countries do not want to give up on oil and gas yet. The energy insecurity stemming from Russia-Ukraine tensions, has resulted in a renewed rush to fossil fuel infrastructure. The European Union is exploring gas extraction in Africa. The UK has started issuing gas licenses and the US has been the biggest investor in oil and gas in 2022. The watering down of language that originally proposed phasing out of all fossil fuels is therefore not surprising. The recurring theme of scolding for emissions that India and China are subjected to is duplicitous in light of these events.
Finally, there was an expectation that in COP 27, rules of engagement in the international carbon market under the Paris agreement will be defined and agreed upon. COP 27 failed to come up with any concrete proposal on how to implement the carbon market in a way that prioritizes accounting standards with transparency and environmental integrity. India has established its own domestic carbon market which will be voluntary first and then a mandatory cap–and–trade system later. But a fully developed carbon market is going to take a while.
Keeping justice at the heart of any transition is very important to ensure that nobody is left behind, More importantly, nobody has to unfairly pay for the change (especially given the fact that the impacts of climate change aren't equally distributed). This can not be achieved without concrete actions on multiple fronts in the coming years. We need decisive efforts to operationalize the Loss and Damage fund, binding targets for increased climate finance from the developed world, and consensus on phasing down ALL fossil fuels, , not just coal. For India, we also hope for a comprehensive Just Energy Transition Plan (and finance for it) particularly to help coal-dependent communities re-skill and shift to other sustainable livelihoods.
---
കാലാവസ്ഥ ഉച്ചകോടിയുമായി ബന്ധപ്പെട്ട സ്‌റ്റോറികൾക്കായി, ഇവിടെ ക്ലിക്ക് ചെയ്യുക.
For stories related to COP 27 Climate Summit, click here.
---
Subscribe to our channels on YouTube & WhatsApp