The Games Outside the Stadiums in Qatar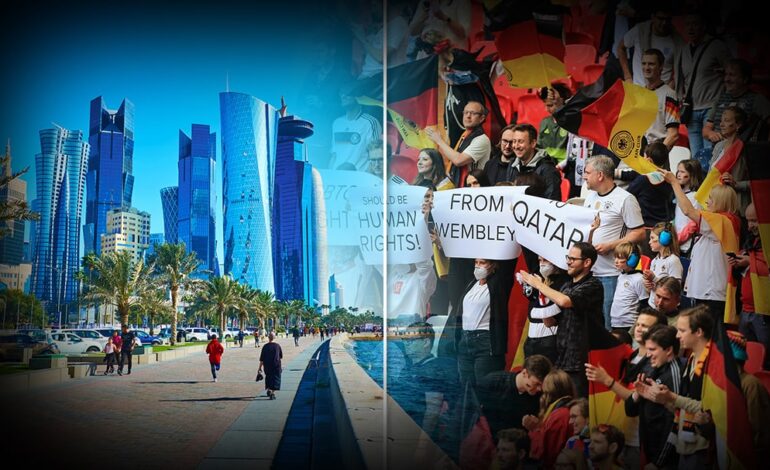 On November 20,2022 , the Italian referee Daniele Orsato blew the first long whistle of the 2022 FIFA World Cup in Qatar. The first international match to have been played inside a tent came to an end, with Ecuador edging hosts Qatar by two goals in the inaugural World Cup match. Al Bayt, 'the home', stadium erupted in thunderous cheers, not just for the winners, but for the country of Qatar. Such was the experience of watching a football match in the 60000-seating capacity, weather-controlled stadium, built in the shape of an Arabian traditional tent.
By the time the match ended, the people inside the stadium and those millions who watched the match in their homes, had some sense as to how this tournament will play out in the next 27 days in the small country of Qatar. Those who came in person to the venue were enthralled by the opening ceremony, the way the proceedings were conducted, particularly the convenience with which they could  enter the stadium and watch a match without any hiccups in such a large stadium. Not surprisingly, the players and fans of different teams who had already arrived in Doha for the event had nothing but praise for the arrangements made by the host country.
Football afficionados of all races, colours, genetic and ethnic streams have claimed for ages that this game is the only culture universally present in every nook and corner of the world. Not a misplaced claim one may say, looking at the popularity of the game around world. Whatever  be the cultural and linguistic differences, this game has always been played with the same fervour, following the same rules in countries across the globe. Every kid with a ball these days may be thinking of himself as Messi or Ronaldo, but of course, these legendary icons of football  change from time to time and from  generation to generation. Any open space, however small it may be, will be considered as a stadium by these kids . And, indeed the number of  players on the field may not always be the mandatory eleven, but may increase and decrease based on the situation.
Due to several factors, including historical circumstances and track record, economy related constraints and anatomical differences between races, this magical game has been dominated by teams from certain parts of the world. But with the progress made by different countries in sports and science, more and more players from previously less represented areas of the world have come on to the world stage. For example, look at the number of African players in the European leagues these days. Equally interestingly, more and  more Asian players are also appearing on the world scene than before. Along with all this,  domestic leagues in many other countries have become more competitive in the course of time. It could well be that players from less privileged regions, in terms of football history , are expressing their pent-up historical discontent against the dominant countries in a uniquely creative manner.
It is in this larger context that one needs to look at and analyse the trenchant criticism of FIFA and the 2022 World Cup in Qatar by some sections of the  agenda driven media across the globe, supported by their own football greats of the past. Since the day Sepp Blatter opened the envelope and announced Qatar's name, in the year 2010, as the host city of FIFA WC 2022, these people have tried to find fault with everything Qatar did. The first accusation was that, Qatar does not have a football history. As of today, we know that Qatar has won AFC cup, GCC and Gulf cup. And their domestic club championship showcases fiercely competitive football skills, so much so that some of their clubs participate in international club championships and their players have been named Asian players of the year.
Then they said the country is too small for such a big event and did not have the infrastructure to accommodate the huge influx of fans during the event. But Qatar proved them wrong, literally proving why small is beautiful, by constructing 8 beautiful world class stadia within one hour of travel distance between them. And yes, connected them all with top class road network and metro services. This, the Qatar authorities pointed out, helps the spectators who otherwise had to spent hours travelling between stadia, like how they were constrained to do in Russia. In Russia the stadia were thousands of kilometres apart and many who travelled to Russia ended up watching just one match.
They also raised the issue of immigrant bonded labour used to construct these facilities. Qatar challenged them by putting in place strong labour rules in favour of the workers and brought in international labour organisations other than FIFA to inspect the labour facilities and their condition. All these institutions reported in favour of Qatar, but the nay-sayers were still not happy. One must remember, all these people were sitting in countries where organised human trafficking happens on a daily basis. While pointing one finger at Qatar, they forgot that the other fingers were pointing at themselves.
Meanwhile, some of the more self-styled liberal groups ended up siding with the far-right in criticising Qatar on the issue of women's rights. This too, completely overlooked many recent  developments that have happened in Arab countries paving the way for the emergence of women as ministers and social leaders . These "new-age women"  were practically guiding their people to the world stage. 
People who look at biassed and  half-cooked reports by the western media, find fault with the way the Arabs conduct their day-to-day affairs. Arab world has progressed and moved forward from the days of Lawrence of Arabia, but these arm chair critics refuse to accept that. Just to add an interesting fact, many leading beauty brands sell more in the Arab countries than in many European countries put together. Women in this part of the world are competing in world sports and fly fighter jets and these uninitiated people ask whether they can drive cars! In Qatar, we will see in the coming days, that many of the World Cup departments are run by proud young Qatari women.
Just before the World Cup kicked off, controversy also broke over the manner in which Qatar society looked at LGBTQ affairs. In pure practical terms, Qatar holds  the very same views as a majority of the countries in the world. Even a country like India acknowledged LGBTQ rights only a few years ago , but complaints still exist amongst the community that the authorities are merely paying lipservice to this concept.
Does this mean that these critics would oppose all having views similar to Qatar on this issue ? What would be their stance when such countries hold the World Cup in future, we doubt. Many of these countries have strict anti-abortion laws based on their religion, will those countries be stopped from holding sports events in future? We can name countries where marrying a widow is a crime, will that be held against such countries from participating in world events? There are definitely many cultural differences in countries around the world, and people are changing but will take time. If you look at Qatar or any other country, they are not the same as in 2010.
Another accusation has been about the availability of alcohol inside the stadium. Some in Indian media too took this up, forgetting the fact that there are whole States in India where they don't sell liquor! But there are scores of countries where alcohol will not be allowed inside a stadium. Many such countries exist in Europe too and were these people  bothered about that? The fact that alcohol will be provided in designated areas around the country should be the end of the discussion, but the rancour, clearly, was never about the drinks.
In the last one week we heard new accusations that Indians are celebrating as Argentinan, Brazilian, Portugal fans. What kind of an argument is that? Everyone knows Qatar population has a large number of Indian citizens working in that country. And majority of them are from Kerala, who are passionate about football. Recently FIFA tweeted highlighting the football frenzy in Kerala as reflected in the popular cut-outs of football heroes raised in the middle of a river in the State. That alone should have shut up these people. But no, they have a different agenda dictated by a different slant and pattern of arguments. As FIFA President Infantino said two days back in Doha, this was nothing but racism and have no place in this beautiful game and elsewhere.
Another lie that the western media , including some celebrated ones, sought to propagate was that many foreign teams were not happy with the rules and regulations prevalent in everyday life of Qatar and hence were staying outside the country during the tournament. Some economic pundits say, the media became a part of European cartel trying to get natural gas from Qatar, with the current Ukraine- Russia situation threatening the future of cheap gas from Russia.
What stood out the most in all these cases, was the response from Qatar. They kept quiet all these years focusing on their job on hand. Once they were ready, they went all out blazing with forceful words and hype . They minced no words when they asked why this sudden opposition to Qatar. When Arab money was used by European clubs to stand on their legs, when the same currency was used to support the troubled banks in the west, when Qatar's infrastructure projects were awarded to Western companies, no one complained about the culture, then why now? It all shows signs of lack of respect and unjust judgements . Certainly, Qatar and the Arab world have said these will be vehemently opposed in unison.
It was as if these people wanted a free for all kind of event, which would have helped them substantiate their stories about the "boorish, bullying, racist antics in Qatar stadia." But, sorry that was not to be. Qatar has clearly said their policy was one of tolerance and respect. And if one goes by the early responses of the real football fans from the world around after the first game, they all have clearly said, Well done Qatar, we are with you!
---
ഈ ലേഖനം മലയാളത്തിൽ വായിക്കാം, ഗോളിന് വെളിയിലേക്കുള്ള പന്തുകൾ
---
Subscribe to our channels on YouTube & WhatsApp