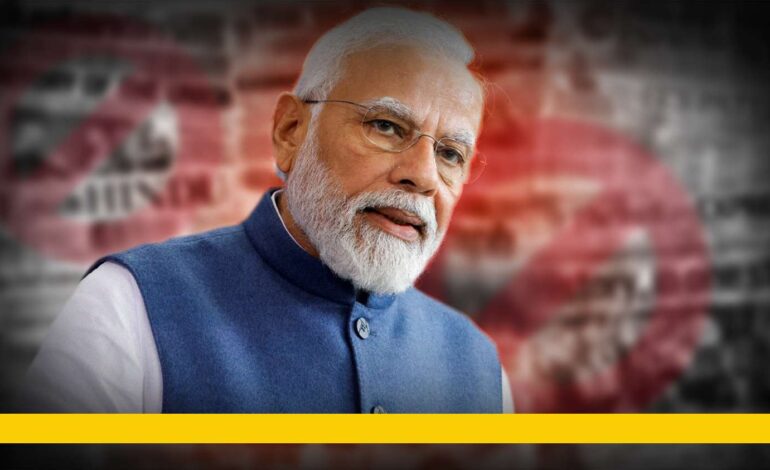 Hailed as a matchless orator by his supporters and a master of teleprompter-backed monologues by his critics, Narendra Modi is guilty of degrading public discourse on several occasions.
---
At a recent executive meeting the Bharatiya Janata Party (BJP) Narendra Modi warned leaders against making unwarranted remarks that overshadow his government's hard work. Days later, however, his own speeches in Parliament have come under the scanner. Instead of responding to the allegations about his government's alleged hand in Gautam Adani's meteoric rise since 2014, Modi acted in a way that astute political observers view as "unprincipled" and completely "unbecoming of a Prime Minister". In the Lok Sabha, during the debate on the Motion of Thanks t0 the President's address, Modi said the Opposition parties should thank the Directorate of Enforcement for having brought them together. Amid chants of Modi-Modi and Adani-Adani, he picked a study conducted by Harvard, a university that he had derided in the past, to attack the Congress. It goes without saying that the study titled the 'Rise and fall of India's Congress Party, which underscores that former Prime Minister and BJP leader Atal Bihari Vajpayee was fond of Jawahar Lal Nehru and compared him to Lord Ram when Nehru died, has more lessons for the BJP than the Congress.
Rather than replying to the five simple and direct questions raised by Congress leader Rahul Gandhi in the Lok Sabha, Modi attacked Gandhi family in the Rajya Sabha later, asking jokingly, "What is the shame [in the Gandhi family] using the Nehru name?" Going ahead with his monologue, amid chants of Modi-Modi and Adani-Adani again, he boasted: "Desh dekh raha hai ek akela kitnon par bhaari padh raha hai (The nation is watching one person take on everybody)." The reference was to his own self. In the 90-minute speech, Modi played the victim by accusing the Opposition of hurling "gaali" (abuse) and "jhoot" (lies) on him.
But this is not the first time that Modi is facing scathing criticism for his uncouth comments. Even before he came to Delhi in an aircraft owned by his friend and controversial businessman Gautam Adani, Modi as Gujarat Chief Minister had hit the headlines for making uncivilised comments. He referred to Congress leader Sonia Gandhi as a "Jersey Cow" and Rahul Gandhi as a "hybrid bachda" (calf). Modi even addressed Shashi Tharoor's partner as a "Rs 50 lakh girlfriend".  Even after assuming the office of Prime Minister, he does not seem to have levelled up to his new stature. Although Modi keeps complaining in his election rallies that Opposition leaders abused him, his own track record does not show him in a good light. Here's a low-down on Prime Minister Narendra Modi's most un-prime ministerial remarks:  
Before the Bengal election rallies in 2021, it appeared that Modi did not go for a haircut or a trim. When he landed in Bengal, many saw a reflection of Tagore in him.  But when he addressed Mamata Banerjee as "Didi O Didi", in a mocking tone, he came across as a low brow rhetorician. This is how West Bengal Chief Minister Mamata Banerjee reacted to his comments: "He does this every time. I don't care!"

In the wake of the demonetisation fiasco in 2017, a moist-eyed Modi told the country: "Give me 50 days: burn me alive, if I am proven wrong." When demonetisation proved to be disastrous, he fell silent and moved on to give a new explanation for demonetisation by saying that it was "war against corruption" , a surgical strike on benami properties. 

In what is understood to be a reaction to Nobel Laureate Amartya Sen's comment that "demonetisation is a despotic action that has struck at the root of an economy based on trust," Modi said, "Hard work is more powerful than Harvard".

During his Dhaka visit in June 2015, Modi said: "I am happy that the Bangladesh Prime Minister, despite being a woman, has declared zero tolerance for terrorism." Modi faced severe backlash for this sexist statement against his Bangladeshi counterpart, Sheikh Hasina, which, according to Opposition parties, lowered India's international standing.

Addressing the Indian diaspora in Seoul in May 2015, Modi remarked that people earlier (during the Congress rule) used to regret as to what sin they had committed to have been born in India. His comment evoked angry reactions from the Opposition parties and a storm of protest on social media.

In May 2015, Modi ridiculed the previous governments while addressing the Indian diaspora in Toronto's Ricoh Coliseum, saying, "earlier our identity was of scam India; we have to change the notion around the world now to skill India".

In August 2016, while calling for the protection of Dalits and punishment for fake cow protectors, Modi said at a public rally in Hyderabad: "Attack me, shoot me, not my Dalit brothers." The appeal was severely criticised by his critics who asked why he just could not ensure proper implementation of law and order in the country instead of making such highly melodramatic statements.

In May 2016, Modi was ridiculed for comparing Kerala with Somalia in his speech at an election rally. He was quickly reminded that Somalia had one of the highest rates of child malnutrition and infant mortality in the world whereas Kerala had the lowest infant mortality rate in India.

While attacking Bengal Chief Minister Mamata Banerjee after the Kolkata bridge collapse in 2016, Modi had described the flyover tragedy as "god's message" to people to save Bengal from the Trinamool Congress. "They are saying it is an act of god, but actually it is an act of fraud," he had said. Modi was called out for these comments in the wake of his conspicuous silence after the Morbi bridge collapse in his home State Gujarat in 2022. 

In 2021, while praising the private sector for its contribution to the development of the country, Modi questioned the role of the bureaucracy. The comments were seen as public denouncement of the IAS community. Earlier in 2019, Modi reportedly told the top bureaucrats in a meeting that they had spoiled his first five-year tenure, saying that he would not allow them to spoil the second.

Modi invited sharp criticism for trivialising the nuclear weapons issue while addressing an election rally in Rajasthan in April 2019. Referring to Pakistan's threats, he had said, "Every other day they used to say 'we have nuclear button, we have nuclear button'. What do we have then? Have we kept it for Diwali?"

At the inauguration of the Defence Expo 22 in Gujarat's Gandhinagar, Modi lampooned first Prime Minister Jawaharlal Nehru. He said boastfully, "This is the very same country that once released pigeons, today it has reached a stage where it is releasing cheetahs." A few days ago, Modi had released cheetahs into the wild on his birthday whereas Nehru used to release pigeons on his birthday.

In December 2019, in the wake of movement against the Citizen Amendment Act and targeted violence against the protesters, the Prime Minister said: "People who are setting fire (to property) can be seen on TV… They can be identified by the clothes they are wearing." His views were viewed as targeted against Muslims in the wake of hate speeches delivered by Union Ministers and his party leaders against the embattled community. 

In February 2017, Modi attacked the Akhilesh Yadav government in Uttar Pradesh for its alleged bias for Muslims. He said: "If you create a Kabristan (graveyard) in a village, then a shamshan (cremation ground) should also be created. If electricity is given uninterrupted during Ramzan, then it should be given during Diwali without a break. There should be no discrimination." Surprisingly, the statements surprised even RSS chief Mohan Bhagwat, who responded: "Shamshan, Kabristan, saffron terror all these issues crop up when politics is practised for power and not for the welfare of people."

In May 2019, Modi attacked Congress leader Priyanka Gandhi Vadra after she got photographed with snake charmers during an interaction with them. Modi accused her of projecting an image that did not sit well with the reality of India. "Now it is the time of  'mouse charmers' and not 'snake charmers'," Narendra Modi said, referring to the IT sector.

In February 2017, Modi took a dig at his predecessor Manmohan Singh, expressing surprise at the image of Dr. Singh as a Prime Minister with a clean record. According to him, Manmohan Singh ran a government that faced several corruption allegations. He said: "Not a single corruption charge against Manmohan Singh, that too during the most corrupt government. The art of taking bath wearing a raincoat in bathroom can be learnt from Manmohan Singh."

Addressing election rallies in the run up to 2019 general election – in Latur in Maharashtra, Chitradurga in Karnataka and Coimbatore in Tamil Nadu – Modi sought vote for the BJP in the name of the soldiers who died in Pulwama and who struck back at Balakot. "I want to ask my first-time voters, can your first vote be dedicated to the soldiers who conducted the Balakot airstrikes?" Modi told the crowd at the Latur rally. "Can your first vote be in the name of the martyrs who lost their lives in Pulwama?" Ironically, Modi in February 2014 had described traders as more risk-taking than soldiers.

Though former Prime Minister Rajiv Gandhi was exonerated from the charges of corruption in the Bofors case by the court, Modi dubbed him as "Bhrashtachari No. 1" while speaking at an election rally in Uttar Pradesh's Pratapgarh constituency. Modi's remarks had come in the wake of  the Rafale controversy. "Your father ended his life as India's most corrupt man" Modi had stated in the rally – a comment aimed at Rahul Gandhi.
Incidentally, speaking at an event in Telengana in November last year, Modi had said, "Two-three kilos of gaali (abuses) that I receive every day is the reason why my busy schedule doesn't tire me out." While several police cases have been registered against individuals who have made "derogatory" comments against Modi, the Prime Minister, during a recent event, Pariksha Pe Charcha 2023, told students, "Criticism is like purification in a democracy". However, the recent Income Tax Department 'survey' of BBC offices in Delhi and Mumbai is being seen as his intolerance of criticism. BBC's  two-part documentary series, 'India: The Modi Question', holds Modi "directly responsible" for not stopping the killings of Muslims during Gujarat pogrom and implies that the anti-Muslim violence had "all the hallmarks of genocide". The Modi government's response was to impose a ban on it.
---
Apurva Roy Chatterjee is  a researcher and freelance writer based in Delhi.
---
Read this Article in Hindi and Tamil
---